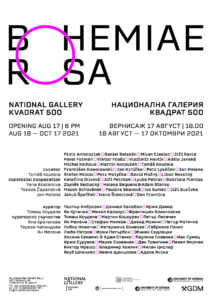 Curator: Tomáš Koudela
Curatorial cooperation: Bratanova, Tereza Čapanová, Jan Melena
The large-scale exhibition of contemporary art from the Czech Republic, prepared especially for the National Gallery and the Bulgarian public bears the same name as the Baroque map of the Czech lands, in which the silhouette of rose is clearly drawn. The exposition also outlines a thematic map, the content of which is subordinated to the imagination and ecstatic Baroque emotion of the thirty-tree contemporary artists working in the Czech Republic
The presented topics, forms and symbols form a strong trend of scenes resembling dreams, fantastic worlds and parallel realities, which are often evoked by the impulses of everyday life. By questioning reality, the authors share a new unknown feeling and perception of reality with the audience.
Absurdity and grotesque, virtual reality on social networks, a rich mixture of cultures, styles and a variety of means of expressions: all this is only a small part of the characteristics of contemporary society. The art of the Baroque era favourably reflects the "changing external form", movement and functional form. All this, and most of all the problems of identity, gender and androgyny, which were already themed in the Baroque, is more than current.
The curators also see the exhibition as a bridge based on "the hope that the spectator, whose knowledge of the Baroque phenomenon is more theoretical than in insight formed in direct contact, will be addressed by the selected visual spectacle."
BOHEMIAE ROSA has a powerful conceptual structure, triangulated by the semantic Orbis pictus, Theatrum sacrum and Theatrum mundi, which are ambiguously related to individual visual sequences, as a free theoretical-interpretive framework, but also as a consistent cultural-historical platform.
"The best way to be faithful to a certain heritage is to be unfaithful to it, that is not to accept it literally as a whole, but to try to catch it, to capture its dogmatic moment" – the quote from the French philosopher Jacques Derrida was perceived by the BOHEMIAE ROSA team as a close understanding and feeling, while the exhibition step out of predetermined cartographic parameters far beyond the border of Bohemia. To wash away the outlines of the rose, to find oneself outside the shadow of the ages, and thus to present Baroque tendencies that are still valid for contemporary art.
Yana Bratanova, exhibition curator
National Gallery